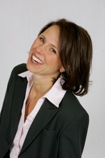 250-769-7097
Travels from Kelowna, BC
Crystal Flaman
Professional Speaker, Entrepreneur, Author,
100km Ultra-Marathoner and Ironman Triathlete
Crystal Flaman is dynamic, enthusiastic and funny! Crystal specifically works for and speaks with organizations who want to help their people live a more inspired life and have more energy on a daily basis! She inspires her audiences to achieve greater success, find fulfillment and discover their potential! Crystal specializes in assisting individuals, businesses and organizations to get more out of their day and out of their life through interactive keynotes and workshops!
Crystal Flaman is an Entrepreneur, Five-time Ironman Triathlete, 100km Ultra-marathon runner, Author & Storyteller! Crystal is also the creator of a unique and inspiring product line. Crystal's goal is to use her gifts and talents to make a difference in the world, on and off the speaking platform, and she has personally raised almost ONE MILLION dollars for charities, including the Heart & Stroke Foundation of Canada, The Canadian Diabetes Foundation, and Partners In The Horn of Africa through various athletic endeavors! Crystal & her twin sister rode the first ever tandem bike across Canada, cycling 7906 km, raising $500,000 for the Heart and Stroke Foundation, entering the Guinness Book of World Records for this feat!
Crystal has also run a 100km ultra-marathon to raise funds for Africa & has raised over $80,000 in three annual 100km "Great Big Run For Africa" ultra-marathon events! These funds have assisted more than 1000 females throughout Africa in starting their own businesses! Currently, 30% of Crystal's fee is being spent on sponsoring a school in Nepal which will be built by the end of 2008, in the name of her clients! Crystal truly inspires her audiences to live & work with greater joy, passion & purpose & assists clients in achieving their dreams, goals & potential!
Creator of The Ripple Effect - www.imaginetherippleeffect.com
Co-founder of D.I.V.A. Retreats - www.divaretreats.wordpress.com
"Become more than you were when you woke up this morning!"
---